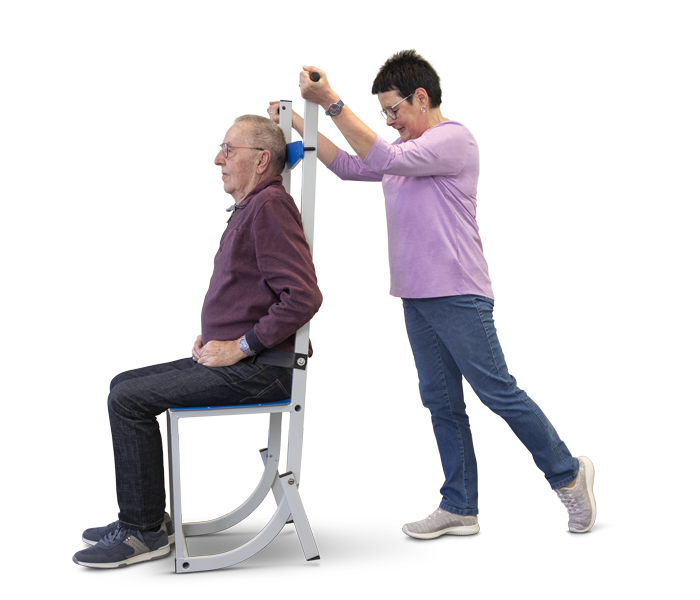 A person in need of help has fallen and urgently needs help to get up again. With our new, further developed product HEBIX rigid, this situation is no longer a problem.
With a weight of only 7 kg, the HEBIX starr is not only a very light product, but it is also ready for use immediately and without any additional actions – without time-consuming assembly, the backrests only have to be plugged in during the process of putting the HEBIX rigid on to the person.
In six simple steps, the HEBIX lifting aid is attached rigidly to the person who has fallen and enables lifting in just a few minutes. Thanks to the advanced twisted backrest, the HEBIX rigid offers even more comfort for the patient.
Another advantage is that the person helping or the caregiver has to use less force over the entire process and can thus protect themselves. With the HEBIX rigid, the caregiver only has to bring about a quarter of the total weight of the person in need of help to easily bring the person who has fallen into a sitting position.
Safe and innovative support feet …
The innovative support feet of the lifting aid HEBIX fold automatically into the support position as soon as the vertical position has been reached when lifting. HEBIX then stands alone and the helper can fully concentrate on the person being lifted.
HEBIX starr dimensions …
hebix.
video & technical specifications
Lifting aid HEBIXstarr


Article no. 7800000
Max. patient weight 100 kg
Weight approx. 7,0 kg
Material Surface powder-coated
Made in Germany