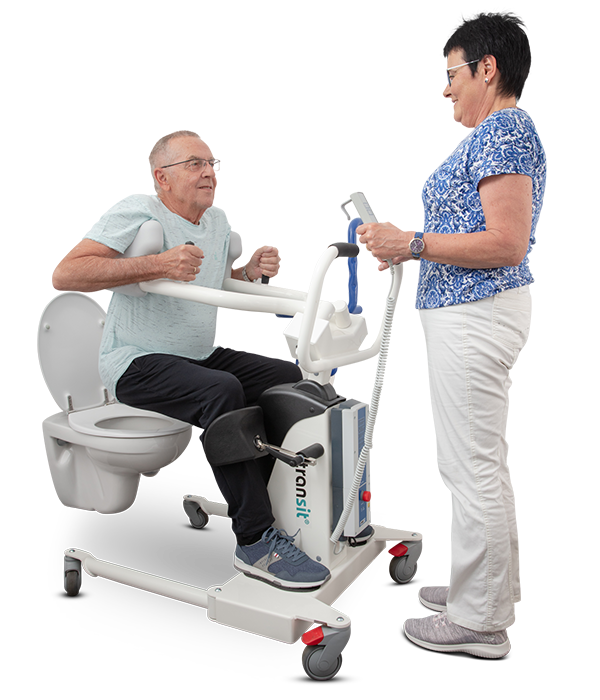 When caring for patients or the elderly, nursing staff nowadays mainly need aids to move patients quickly and easily from one position to another. aacurat offers the tried and tested top product transit for this purpose.
The transfer lift transit makes it child's play to transfer patients from one sitting position to another. The patient lift simply supports the patient under the shoulders. The transit does not need any straps or cloths for this, which makes the transfer process comfortable for the patient and effortless for the nursing staff.
And this is how the transfer lift works: The patient is comfortably and safely picked up or fixed under the arm with padded and ergonomically shaped armpit supports. No additional straps or cloths – which can hinder when putting on and taking off clothes – are needed. By pressing a hand switch, the person in need of care is gently lifted up and safely set down again at another location. Approaching wide wheelchairs or seats is possible at any time due to the electrically operated spreading of the chassis.
transit makes the transfer process much more pleasant for the nursing staff and for the patient. The caregiver can lift the patient with a simple push of a button. The patient suffers no pain from disturbing straps or cloths during repositioning.
The electric spreading of the chassis at the push of a button makes it easy to approach wheelchairs and wide seats.
transit dimensions ...
also as special construction
We will be happy to help you with any special questions or problems you may have. The example picture shows a special construction of the transit UmsetzLift where the person can transfer themselves from the wheelchair to the bed. Simply use our contact form or call us.
transit

.video & technical data
TransferLift transit


Articel no. 8275001
Load capacity: 160 kg
Lifting speed: 40 mm/s
Lifting and spreading with electric motor 24 V
Power supply: rechargeable battery with charging cable,
control with hand switch
Protection class IP 43
Weight: approx. 63 kg
Made in Germany